Notice of call for bids for the supply of laboratory analytical equipment
We hereby invite you to place your bid for supplying equipment to LABORATORY FOR OPTOELECTRONIC TECHNIQUES IN HERITAGE CONSERVATION, which is being created and funded under EU Innovative Economy Program, measure 1.4-4.1.
This request for proposals is not conducted under the Act of 29 January 2004 Public Procurement Law.
After examining submitted proposals, the Contracting Entity shall invite selected vendors to further negotiations.
The procurement shall be financed with the Contracting Entity's own funds and funds granted by the EU.
Attached are terms of reference including equipment type and specification requirements as well as bid placing deadline and requirements.

 >> files <<
---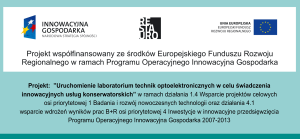 ---